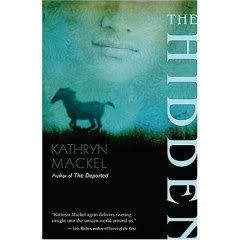 May Christian Fiction Blog Tours features
The Hidden
by
Kathryn Mackel
which debuted May 09, 2006.
Susan Stone vowed never to return to her childhood home but twenty years later she goes back to take care of her injured father and his business. After participating in a traumatic foaling Susan rides off into the hills of Colorado, recklessly courting danger and death. Flung headlong into a dark ravine Susan encounters something that will change her world forever. A strangely scarred boy-man chained in darkness, with no memory of who he is …

Meanwhile Sheriff Ricky Sanchez investigates a series of gruesome murders in the Colorado area that seem increasingly linked to Susan's new discovery.

Kathryn Mackel has written a story that will keep you guessing till the end (my favorite kind). You will be caught up in the mystery of Jacob and entangled in the turbulent emotions that surround Susan and Melissa.
In the words of Colleen Coble (author of
Alaska Twilight
)
The Hidden
is "...An amazing, riveting read not to be missed."