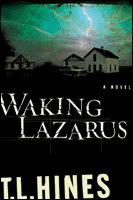 This month's Christian Fiction Blog Tour features none other than the first published book by the founder of the
Christian Fiction Blog Alliance
,
T.L. Hines
.
Waking Lazarus
has been described as :
"Provocative from the first line, intriguing to the last. WAKING LAZARUS is a thriller of strategic pacing, colored in tones of mystery and wonder. DON'T miss this exceptional debut."
--Brandilyn Collins, Bestselling Author of WEB OF LIES

"In its raw honesty and credible depiction of the paranormal, T.L. Hines' WAKING LAZARUS recalls the early work of Stephen King, leavened with optimism and a profound sense of grace. A wonderful debut by a prodigiously talented writer!"
- Michael Prescott, NY Times bestselling author and author of MORTAL FAULTS

"T.L. Hines delivers a creepy yet compelling read that focuses on one of the most disturbing questions to ever haunt man's subconsciousness – why am I here?"
--Joseph Nassise, Author of the TEMPLAR CHRONICLES

"T.L. Hines is a fresh voice in the field of suspense, balancing dark moods with moments of emotion and redemption. He creates a likeable, conflicted character in Jude Allman, then pits Jude against an unforgettably chilling villain. I found myself holding my breath in more than one scene. With flawless pacing, Hines leads us to a final twist which is startling, yet satisfying."
--Eric Wilson, author of EXPIRATION DATE and DARK TO MORTAL EYES

Jude Allman has one motto: Keep it secret, keep it safe. He uses this to escape the notoriety that came with returning from the dead not once or twice but three times. To this end he has changed his name and is a current resident of Red Lodge, Montana. In keeping it secret and keeping it safe he has blacked out his memories from his past and works hard at secluding himself away from the world.

But the light is about to shake up his dark world as things begin to happen that may reveal life-changing truths about his own deaths. As children begin disappearing in Red Lodge and surrounding towns, Jude Allman finds himself on the brink of self-discovery that can crack the case wide open.