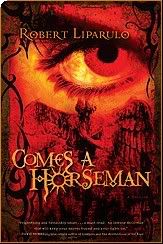 Comes A Horseman
, the first offering of acclaimed newspaper reporter
Robert Liparulo
is already receiving rave reviews:
"Robert Liparulo writes the kind of thriller other authors write in their dreams, and readers devour until the wee hours of the morning! Make way for a new master of the genre and a can't-put-down knockout with Comes a Horseman." —Mark Andrew Olsen, author of The Assignment and co-author of Hadassah.

"Robert Liparulo is one of the best writers to hit the block in a long time. Comes a Horseman is brilliantly conceived and executed. It will leave readers desperately wanting more." —Ted Dekker, author of the #1 best-selling Obsessed .

"Not for the faint of heart, this is quality writing that deserves a lofty niche within the action/suspense genre. It is well-researched and meticulously detailed, and the characters are fascinating and 'real,' the dialogue clever and altogether human, the plot compelling. What I'm trying to say is, I love it!" —Frank Peretti, author of Monster and This Present Darkness .

Frightening and fiendishly smart, Comes a Horseman is a must-read! Robert Liparulo's intense thrill ride will keep your nerves frayed and your lights on. —David Morrell, best-selling author of Creepers and The Brotherhood of the Rose
Comes A Horseman
became one of Amazon's top 100 thrillers approximately one week after release and a prominent Hollywood producer has already optioned the movie rights to this book.
Interested?
About the book:
Reeling from a series of attempts on their lives, FBI agents Brady Moore and Alicia Wagner follow a trail of evidence that leads to a conspiracy a thousand years in the making. Finding clues in the dusty tomes of the Vatican's Secret Archives and the paintings of William Blake and Hieronymus Bosche, they plunge deep into a pit of evil ambition.