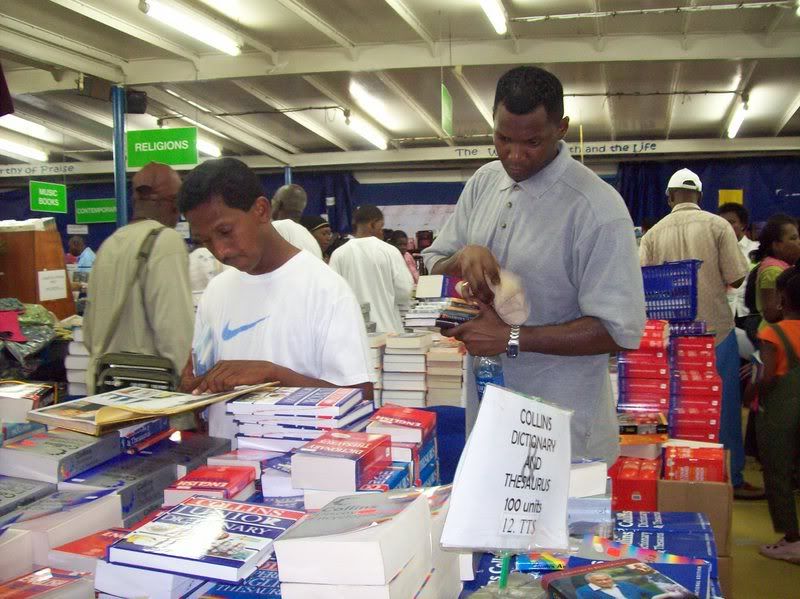 I had such a great day today. Finally, I made my way to
Logos II
which has been in Trinidad for the past couple of weeks. Books, books and more books! I was in heaven! In spite of the mad crush of people and lack of air-conditioning. I got three great books I can't wait to get into: Experiencing the presence of God by Charles Finney, The Believer's Handbook by Lester Sumrall and Captivating by John and Stasi Eldridge. This last book I've heard so much good things about, I can't wait to read it.
You didn't that was all I bought did you? I sort of went crazy in the 'grab bag' section which had most of the fiction books. Christian fiction! A rare commodity in this country let me tell you. Usually I buy books off eBay or Christianbook.com and have them shipped here so this was a great treat for me. Authors like Francine Rivers, Karen Kingsbury and Randy Alcorn to name a few. I only 'discovered' Christian fiction last year (wonderful thing the internet!) and just in time too, so I knew what authors to look for there.
I don't think I mentioned it before but Logos II is a ship and I took these pictures through and open space between two shelves (speaking of which I'm thinking I might need more of those).
All in all a wonderful day. Below are some pictures I took of the view from the boat.